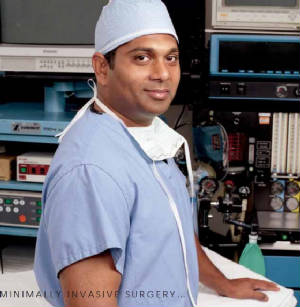 Dr. Abraham completed his General Surgery training at Yale University and New York Medical College. He received Thoracic Oncology training at Memorial Sloan Kettering and SUNY Buffalo and gained his Cardiovascular Surgery experience under the direction of heart surgery pioneer, Tomas Salerno, MD.
Dr. Abraham is a heart and lung specialist with an emphasis in minimally invasive procedures. He is dedicated to teaching and sharing his experiences and proctors fellow surgeons on a variety of procedures including:
Beating Heart CABG/ Off-Pump Bypass Surgery

Less Invasive Heart and Lung Surgery

Video Assisted, Robotic Thoracic procedures

Trans Myocardial Laser Revascularization (TMR)

Surgery for Atrial Fibrillation

Neuro-Protection during Heart Surgery

He also performs both traditional and Mini Valve repairs and valve replacement surgery for the mitral, aortic and tricuspid valves. Atrial tumors and ASD's (small openings in between heart chambers) are also handled less invasively. As opposed to sternotomies (incisions down the middle of the chest), Dr Abraham uses small chest incisions on the right side. These are less painful, have a lesser incidence of infection, much shorter hospital stays and faster recovery times with less transfusion need and are more cosmetically pleasing.
Most lung cancer surgery is also performed by Video Assisted Thoracoscopic Surgery (VATS) approaches. Dr Abraham does the full complement of VATS-Lobectomies (lung cancer surgeries).
Surgery for Hyperhidrosis or "sweaty plams" is also performed this way as outpatient/same day surgery and esophageal disease can be approached minimally invasively as well.
Dr. Abraham is well published, having contributed to several periodicals and book chapters. He also serves on the Speakers Bureau for Edwards Life Sciences, Pfizer, Baxter and iFlow and is on the board of Specialty Care.